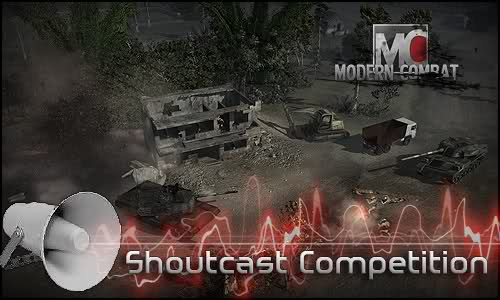 The submission deadline for our shoutcast competition has passed, so it's time to conclude! We've got three entries. Not much some might say, but quality beats quantity and these casts certainly are of outstanding quality! The veteran shoutcasters darkfox101, inuki, and Tommy952 & FatalSaint have done a great job putting together their videoshoutcasts.
Of course this is done all for you, to entertain you, to bring you some video analysis of the game, or just to give you the last impulse to finally download CoH: Modern Combat and give it a try yourself! It is done for you, and you will also decide who's going to win this competition by giving your vote in the poll!
So, who shall be the winner of 50 € prizemoney?
darkfox101, who has casted the semi-final match between DevM and Looner on Yangxin (2)?
Inuki, who choose a game on Langres (2) between SugarSwish and ThisIsDog?
Or shall it be the dual shoutcast of Tommy952 and FatalSaint, who have casted the final game on Senlin Lukou (2) between DevM and Sandland?
Go, check them all out, they are certainly worth it! Don't forget to place your vote in the poll! The Poll will close on the 18th of May!
~The CoH: Modern Combat team